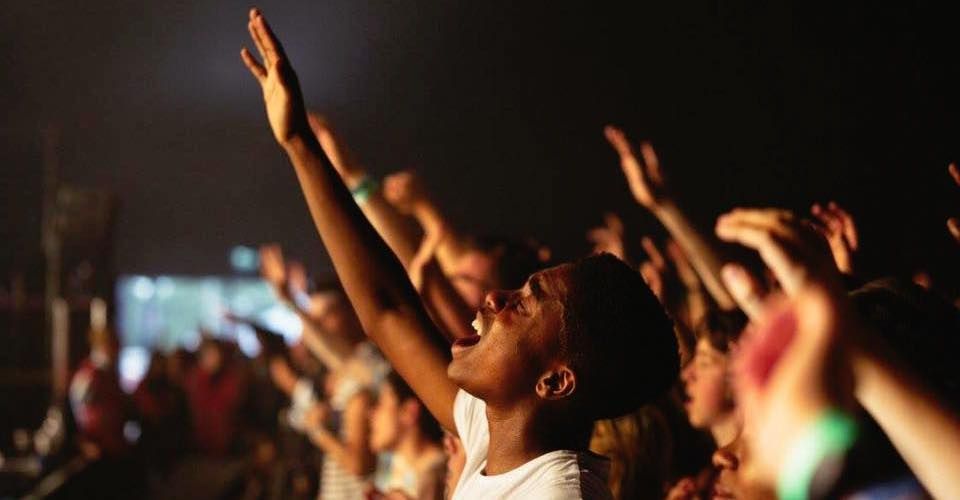 Countless sermons, books, blog posts, and certainly worship leaders' opening statements have included the phrases, "God dwells in the praises of His people," and "Worship invites the presence of God." In fact, this post is in response to an article I recently read with that very same title.
My emphasis will be on the concept of "inviting" God. Now, before I go on, I realize that my observation is simply a matter of semantics. While that may be true, I ask that you at least consider it before you dismiss it. I also want to make clear that my intentions are not for you to look at worship any differently than what you have been taught, unless it's unbiblical, of course! Nor do I want you to question what you have experienced unless it's not genuine. So, I will leave the conviction to the Holy Spirit since that is His job after all.
"…true worshipers will worship the Father in spirit and in truth, for the Father is seeking such as these to worship Him."

– John 4:23
"These people honor Me with their lips, but their hearts are far from Me. They worship Me in vain…" –

– Matthew 15:8-9a
The Bible declares that our God is not only eternal but also personal. This means that our omnipotent (all-powerful) God is also omniscient (all-seeing) and omnipresent (ever-present, everywhere).
Where shall I go from your Spirit? Or where shall I flee from your presence? If I ascend to heaven, you are there! If I make my bed in the grave, you are there! If I take the wings of the morning and dwell in the uttermost parts of the sea, even there your hand shall lead me, and your right hand shall hold me.

– Psalm 139:7-10
The only time Scripture implies that God needs an invitation into our lives and that it is up to us to let Him in, is when we decide to LIVE for Him. This invitation occurs when we willingly accept, believe, and confess Jesus as our Lord and Savior. By placing our trust in His redeeming sacrifice and committing to follow His teaching, we are "inviting" God to come into our hearts and make His dwelling in us.
If you declare with your mouth, "Jesus is Lord," and believe in your heart that God raised him from the dead, you will be saved. For it is with your heart that you believe and are justified, and it is with your mouth that you profess your faith and are saved.

– Romans 10:9-10
That Christ may make His home in your hearts through faith, that you, being rooted and grounded in love.

– Ephesians 3:17
It's truly amazing how the Triune God who sustains every atom and abides in all of creation has also chosen to dwell in the hearts of those who become His children through faith in Jesus Christ.
For in Him [Jesus] all things were created, things in heaven and on earth, visible and invisible, whether thrones or dominions or rulers or authorities. All things were created through Him and for Him. He is before all things, and in Him all things hold together.

– Colossians 1:16-17
Jesus answered and said to him, If any man loves me, he will keep my word, and my Father will love him, and we will come to him and make a dwelling with him.

– John 14:23
As we surrender control of our lives to God and invite Him to take His rightful place in our hearts, the Bible says that He not only makes His dwelling in our soul (mind, will, emotions), but that our physical body itself becomes a tabernacle for His Holy Spirit. That should tell us something about how we should take care of ourselves, don't you think? [Read: Fearfully and Wonderfully Designed]
Do you not know that your bodies are temples of the Holy Spirit, who is in you, whom you have received from God? You are not your own.

1 Corinthians 6:19
So, when I hear Christians say that worship is a way to INVITE God (His presence) into our midst, I tend to question what exactly do they mean/believe by that, especially since we all know that God is everywhere. Some may say "You know what I mean", but unless they are clear, I assume they mean that He literally "shows up."
Growing up in the Pentecostal movement, I was taught (some still teach this) that whenever there are prolonged shouts of praise, Holy Spirit manifestations, and prophetic utterances, that's when God the Holy Spirit comes, and his "presence" can be seen/felt. I have yet to find this theology supported by the Scriptures. And no, I am by no means belittling this charismatic style of worship. I personally love the uninhibited expression of praise unto God encouraged in Psalm 150. I am simply making reference to it because for many, that is the interpretation of God "being present." Is it wrong? Yes. Here is where semantics and erroneous teachings come into play.
If you are among those who believe that God's literal presence is dependent on a prescribed ritual of worship and/or on a consecrated spiritual state of mind, then your knowledge of Him is still limited to an Old Testament pre-Christ theology. I am referring to when God (His glory) appeared in the Holy of Holies at the completion of certain rituals performed only by the high priest.
Of course, we cannot disparage the way God chose to manifest his presence to His people through the tabernacle, but neither must we forget that it was a foreshadowing of what was to come; A precursor to the inward and intimate revelation of Himself to us through the atoning sacrifice of his Son, Jesus, THE High Priest. The problem with believing that we can only experience God's presence in certain atmospheres or when one engages in specific acts is similar to focusing on the tabernacle and the cloud rather than the One who instructed to build the tabernacle and who created the cloud. In other words, it's depending on something visible and experiential (spectacular) in order to be assured of what should be evident by faith in God's promise and an ever-transforming life.
However, if by saying that worship invites God's presence you mean that you become more aware of Him, then I would have to agree with you one hundred percent. The presence of God achieved by Christ and mediated by the Holy Spirit is far more intimate than that which Israel experienced in the OT. And, although it can be experienced 24/7/365, the truth is that the cares of this life have a way of easily redirecting our focus from the eternal to the temporal. Hence, why it is of utmost importance to develop and commit to spiritual disciplines, which include fellowship with people of like precious faith and regular worship.
And let us not neglect our meeting together, as some people do, but encourage one another, especially now that the day of his return is drawing near.

– Hebrews 10:25
The truth is that regardless of how you or I may feel or what we may be going through, God's presence is ever before us. He is there, in person, when we are alone and troubled. He is there, in person, when we are in the company of others (believers and non-believers). He is there during the sunshine and during the rain, in the still and in the storm. furthermore, He is there not only when you are doing His will and obeying his commands, but also when you fall short and sin.
We do not need to INVITE God per se in order to know and be assured of His presence. It's a matter of trusting His promise to never leave us or forsake us. And, intentionally being intimate with and seeking nearness to Him through a committed relationship with His Son and with His word.
In short, God's presence is irrespective of where we are, what we are doing, and how we feel. Worship, prayer, Bible reading, and fellowship are essential in the sense that they are meant to help us stay connected to the God who needs no invitation to be in our midst.
"Worship simply makes us more aware of God's presence"
On my way home from work just a few days ago, I started to sing a Spanish song I learned as a young Christian. When I came to the song's bridge, I found myself questioning what exactly did the author mean. Needless to say, it was also another reason I decided to write this post.
El día en que no le alabo, el alma se me entristece
Pues donde no hay alabanza El no puede estar presente.
"The day I do not praise Him, my soul is sadden
Because where there is no praise He cannot be present."
Assuming that the author believes in the omnipresence of God, I suppose his choice of words is also a matter of semantics. Because to believe that God cannot be present in the absence of worship is totally unscriptural. Perhaps that is why I immediately remembered and started to sing the bridge of another song, "Holy Spirit", by Jesus Culture.
"Let us become more aware of Your presence
Let us experience the glory of Your goodness"
When people talk about coming into God's immediate presence during worship it's really just Christian shorthanding. It's basically describing what they perceive to happen from their point of view using their own limited vocabulary. What they really mean, I hope, is that our awareness of Him is simply increased and that we are able to have a more intimate moment with Him. We must never forget that it is ONLY through Christ's sacrifice that we can be brought into God's presence, not our worship. Hypocrites, cultists, and even Santeros (Santeria priests) worship God. When we decide to live for Jesus, we respond to his "knocking" at the door by willingly allowing (inviting) Him to make his dwelling in our hearts.
Behold, I stand at the door and knock. If anyone hears My voice and opens the door, I will come in and dine with him, and he with Me.

Revelations 3:20
Worship should only make us more aware of His presence when all else around us causes us to forget that He is ALWAYS with us. And remember, worship is truly for and about Him (not us) in recognition of who He is and what He has done.